3/2/2021
Rose Mapendo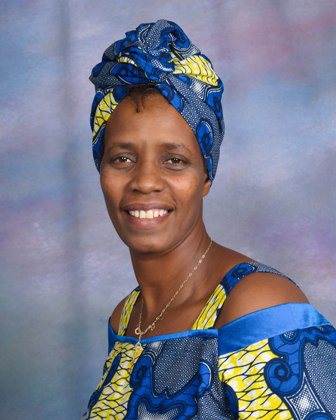 Rose Mapendo was born in Mulenge, The Democratic Republic of Congo in 1963 to a Banyamulenge Tutsi family. A natural-born caregiver, Rose was married at the age of 16 and began raising a strong family unit with her husband. Everything changed for the Mapendo family in 1998 when they fell victim to the ethnic genocide that originated four years earlier with the intent of punishing the Tutsi tribe. Rose and her family were taken to a prison camp where they endured horrific conditions and constant surveillance by the government. During their first week of imprisonment, the government ordered all men to be murdered, including Rose's husband. Rose soon found out she was pregnant while in the camp and gave birth to twin boys.
After accepting that her life would never be the same, Rose prayed to forgive those who had harmed her and decided to make a respectful statement by naming her twins after two of the camp commanders. The wife of one of the commanders recognized Rose's actions as a sign of honor and arranged to have Rose and her family transferred to a less violent prison camp located in the capital of the DRC. They resided in this prison camp for just two more weeks before being sent to a Red Cross protection center that worked to help refugees resettle in other areas and move on with their lives. Today, Rose works as a global activist to bring awareness to the violence that continues in the DRC. Through her nonprofit, the Rose Mapendo Foundation, she is able to provide necessary survival resources and life-skills training to women in her community who continue to be affected by the vicious ethnic warfare that still exists. The foundation is currently working on completing the Women Center United for Peace located in the DRC, which will serve as a shelter for women and orphans. The ultimate goal for Rose and the foundation is to end suffering for all women by securing for them a spot at the peace table where true change can be made. 
---
2/23/2021
Athol Williams

Athol Williams grew up in the South African township of Mitchells Plain during the apartheid rule, which constitued a system of institutionalised racial segregation from 1948 to the early 1990s in South Africa. Athol realized the importance of education at an early age and went on to become the first person to receive a Master's degree from five of the world's top universities including the University of Oxford, London Business School, London School of Economics, Harvard, and MIT. After a successful business career, Athol is now focused on his poetry and non-profit work while teaching at the University of Cape Town. He founded the literacy NGO Read to Rise and has won multiple awards for his literary work.